Welcome!
My name is Marc Montoni.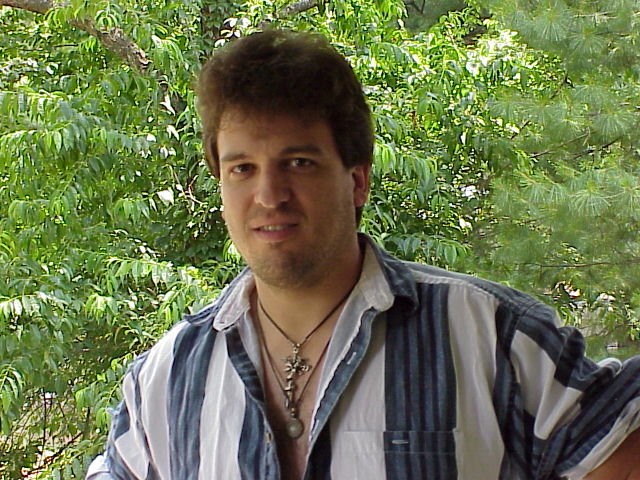 I am in my forties (yechhhh!! 50 is just around the corner!!) and married (October 23, 1999) (for the first time!) to Ellissa, a wonderful kindred spirit who also happens to have passions for two of the three things I enjoy most in life: the Libertarian philosophy, and humor (any woman who finds the antics of Beavis and Butthead amusing is worth her weight in gold!). The only passion of mine she leaves out is my love of old American Motors automobiles -- you know, the small-car specialists of the 1960's and 1970's who built the Rambler, Gremlin, and Pacer.
But I'm working on her on that one.
My parents: Raymond J Montoni and Hope Haley Montoni.
My sister is Lisa Maria Montoni (Navarro).
You can reach pages in the links below that will take you on a tour of my life, philosophy, and my old car hobby.
I don't like frames or needless graphics, so navigating through this site is done with text links. Nor will you hear any soundfiles unless you choose to via one of the links I occassionally have active.
-- Marc Montoni

Site Contents
My Personal Pages -- This is an index page containing links to my personal Photo Gallery -- which has, natch, photos of me, Ellissa, friends & family, and the mechanical members of my family (cars).
My American Motors Pages -- This is the jumping-off page to find out about my AMC car collecting hobby.
. This will take you to the Virginia section on www.ep.com, which has the list of cars and other things I have for sale.
Libertarian Pages -- This is an index page containing links to my Libertarian activities & philosophy; along with my Libertarian photo gallery.
Truth in Government Page -- For those of you who doubt the idea that your government employees are on YOUR side....
Miscellaneous Links -- This page contains links to a few of my favorite websites. I hope you find them as useful or fun as I have. NOTE: This page has not been constructed yet. Please be patient.
------------------------------------------------------------------------------------------------------------------
All contents copyright 2001 by Marc Montoni, Edinburg VA. But that's just for fun. Plagiarize at will.

This page last edited 2003.10.27, using Netscape Composer.