1971 AMC Ambassador


SST 4 dr sedan, 360 4 bbl, Shift-Command transmission (D/1/2 rather than D1/D2/L).

Fully functional -- I drive it on a frequent basis.

Handles like a slalom car; with factory heavy-duty springs and front and rear sway bars.


EXTERIOR:

Needs body work and paint.

INTERIOR:

Interior in very good shape. Seats and carpet look really good.



VIN A1A855P218044 (118,043rd car ordered for production)
BODY: 047944 (47,944th body produced at body plant)
MODEL: 7185-5 (71=1971, 8=Ambassador or 80 series; 5-5 =4 dr sedan SST)
PAINT: B2 Burnished Brown, Metallic
TRIM: 191-B (1=1971, 9=Ambassador SST trim level (used to be "990"), 91=black, B= vynil standard seats (ie bench))
NOTE: Interior color code is 69-R-1 Charcoal Met

CAR BUILD SEQ: W-047844 (West assembly line at Kenosha plant (all big bodies), 47,844th car assembled on that line)




OPTIONS





TRANS: Shift-Command
INT SEATCOVERS: Vinyl
AC: y (disconnected)
PS: y
POWER ASSIST BRKS: y
DISC BRAKES: y
RADIO: AM/FM stereo
WIPERS: Electric
WASHERS: Electric
VYNIL TOP: y (removed)
CRUIISE: n
Rear Speaker: y
Mirrors: non-remote
Wipers: Electric
Washers: Electric
Glass: Tinted
Windshield: Shaded
Shoulder belts: yes


Take it home today for just $2500.00 !


To plan a road trip to take a look, please call or write me:


Marc Montoni
PO Box 28263
Richmond VA 23228-0263
Voice & Fax: 804-288-2766.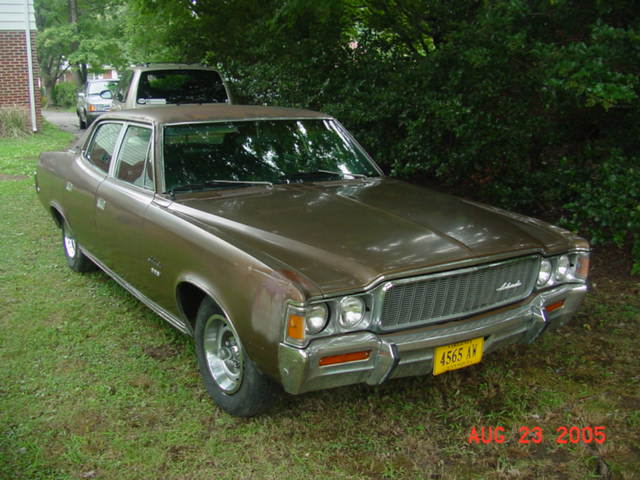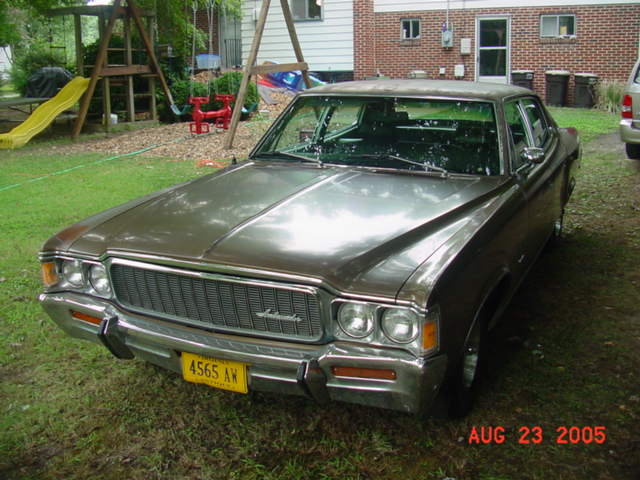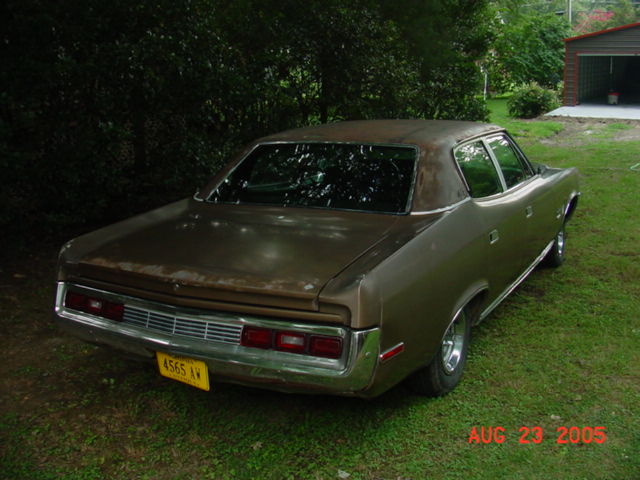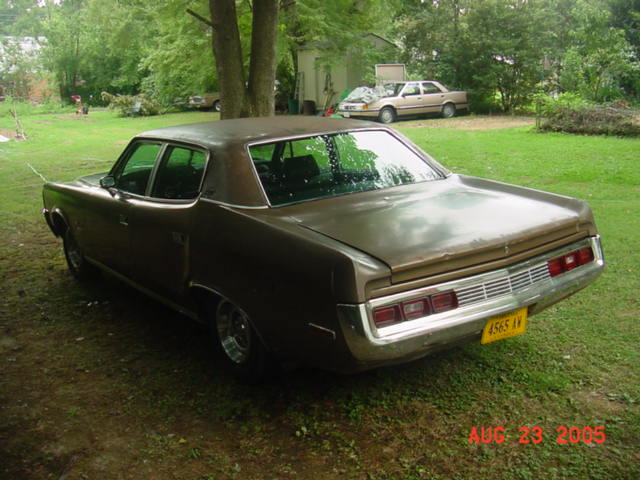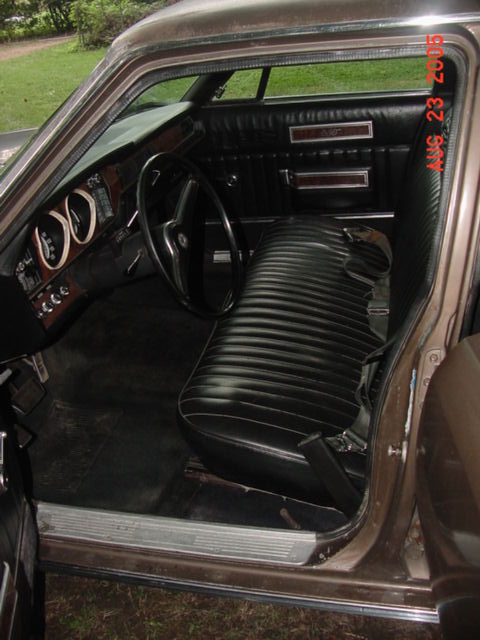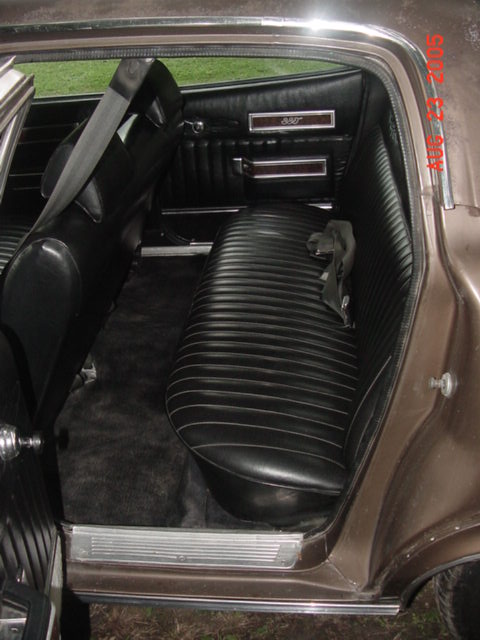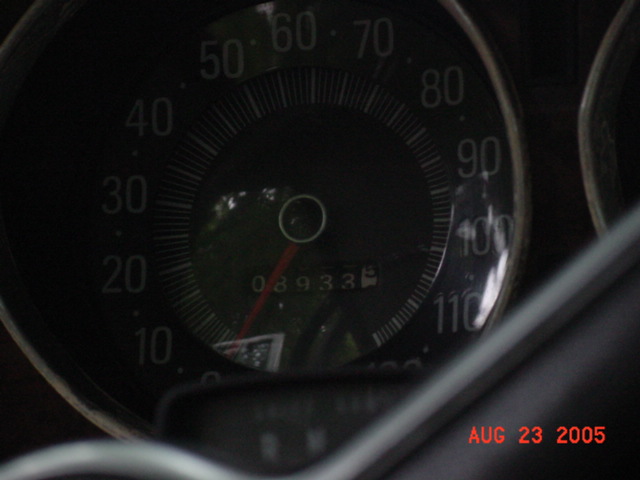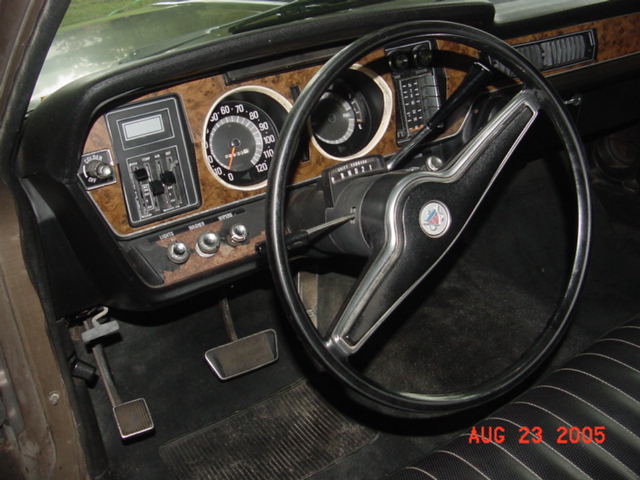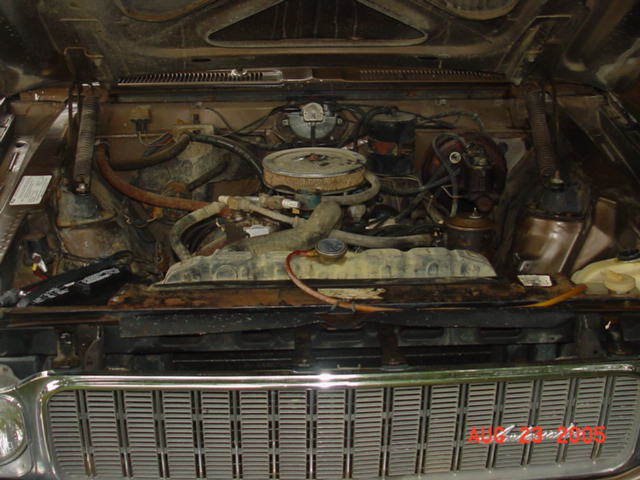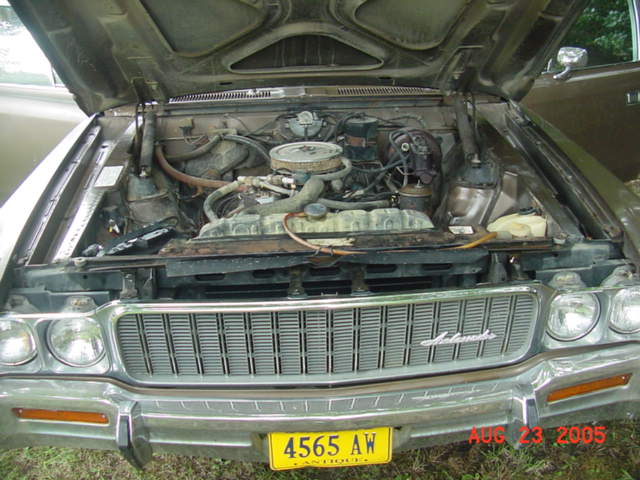 Q & A

DRIVEABLE? I've been driving it locally & have it antique-tagged.

EXTERIOR COLOR: It's in original color -- Burnished Brown, Metallic.

VYNIL TOP: Originally a white vynil top. It's all been peeled off though.

INTERIOR: Amazingly good.

RUST & DENTS: I looked at it on the lift, and it seems to be really solid
underneath (but you can never be absolutely sure with
undercoating). The rear quarters have rust in the usual
spots; one front fender needs some body work, and the
doors have parking-lot kind of stuff. My initial thought
was just do a 4-door swap with one of the parts cars.

LR door has a nice big dent in it (actually doesn't distort
the frame, strangely enough -- operates normally).

RF fender has some nice little gouges in it.

WHEELS/TIRES: That's another story.

Right now I have a set of the steel Hornet/Gremlin rallye
wheels with trim rings and volcano caps on the car.
Even bought the repro "American Motors" red emblem
for the caps. The tires are not new but have almost-
new tread and they ride well. The wheels and tires came
off one of my other cars. I would consider selling them
with this car; but be forewarned I have $75 in the used
tires w/mounting and balancing, and $100 in the wheels
for stripping and repainting; so I'm going to want AT LEAST
$150 (PROBABLY MORE) to part with them.

REAR AXLE: No noises; works fine. Don't know if it's std or Twin-Grip.

NEEDS: Va state inspection says it needs a Master cyl, fuel pump
& line, wiper blades, headlight adjuster.

EXHAUST: Single. Seems well-buttoned up. I looked at it on the rack
at the shop; saw nothin obvious. Sounds good.

BRAKES: Work well, although pulled to the left in a high-speed stop.

FT SUSPENSION: Like all 100k AMC's -- it needs an overhaul -- tie rods, ball
joints, bushings.... A few pieces still seemed tight, but if
you're going to re-bush it you might as well do the ties and
joints at the same time. Strud rod bushings are really easy
and cheap as well.

SPRINGS: Car sits about right so I don't think the springs need to be
replaced. Shocks seem tight.

Go to my HomePage
Go to my AMC Links Page...
Go anywhere but where you are...

This page last edited 2005.11.19, using Netscape Composer.