1975 AMC Matador
HELP!!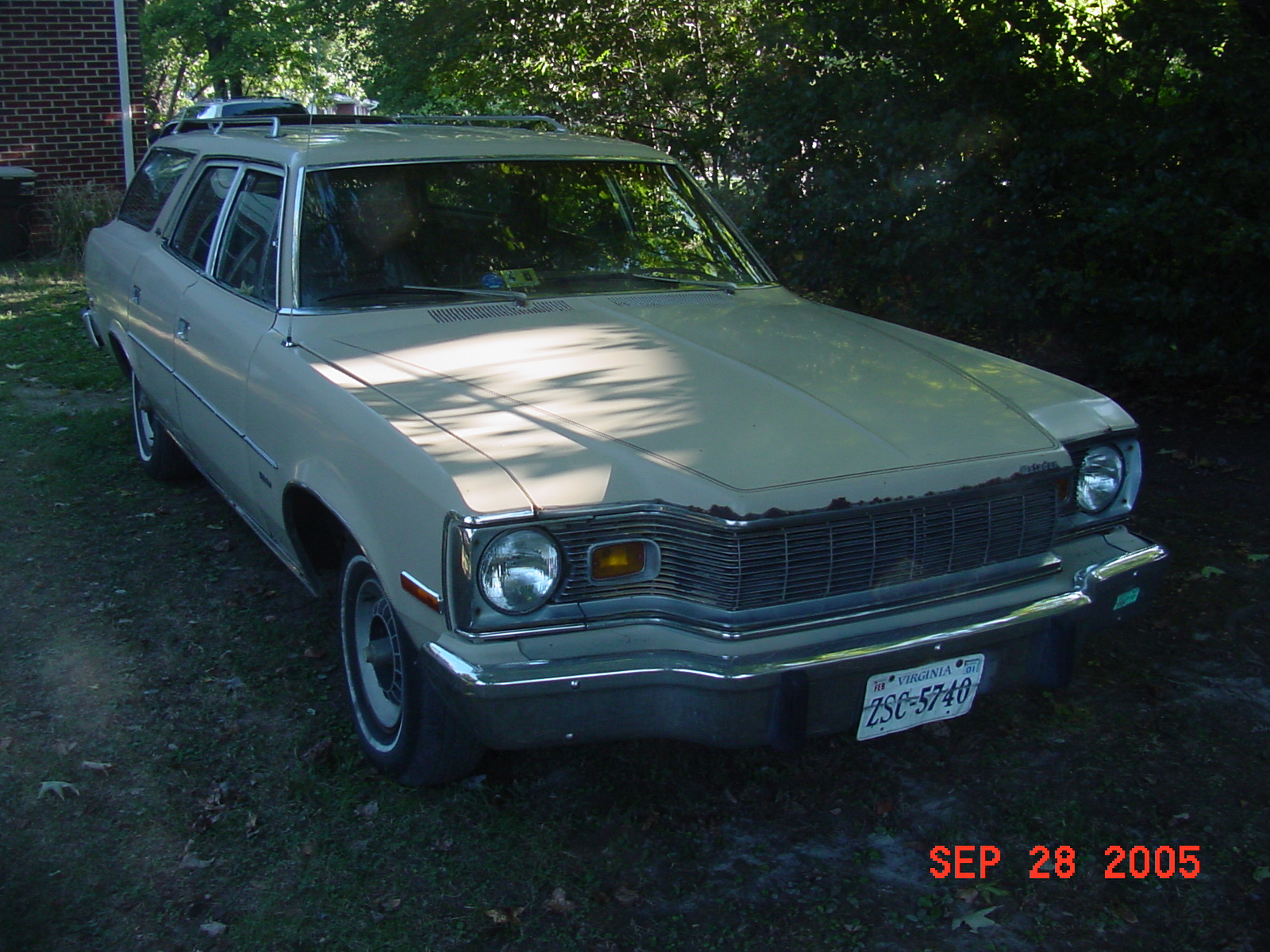 A local friend of mine has lost his storage and must sell a
75 Matador Brougham wagon, 360, 2 bbl, 3-seat that has
been in his family since 1978.




4 dr Wagon, 360 2 bbl, Auto trans (727), PS, PDB, AC, power windows.

Fully functional mechanically; some details need work. For instance,
passenger side electric window is off its track and is at the
moment stuck about 2/3 of the way up; and AC blows nice, WARM air.

The cool AM/FM/8-Track even comes with a "Put the Hammer Down"
tape from Radio Shack!!

Be sure to read the "Miscellaneous Thoughts" at the bottom of this page.


OPTIONS


Factory heavy-duty springs and front and rear sway bars.

FAT rear sway bar

Turbine-style "fake alloy" wheels.


125,000 miles.

SPECIALS -- TODAY ONLY!!

1) 1975 Owner's manual in EC

2) 1975 AMC Factory Technical Service Manual
- complete except for covers.





TRANS: AT/727
INT SEATCOVERS: Vinyl
AC: y (not working)
PS: y
POWER ASSIST BRKS: y
DISC BRAKES: y
RADIO: AM/FM stereo / 8 Track
WIPERS: Electric
WASHERS: Electric
VYNIL TOP: n
CRUIISE: n




EXTERIOR:

Needs body work and paint.

INTERIOR:

Interior in very good shape. Seats and carpet look really good.


VIN: A5A887N151409
A=American Motors
5=1975 model year
A=AT column shift
8=Matador series
8= 4 door wagon
7=model/group -- Matador
N=360 2v
151409 = Kenosha built; 51,409th vehicle to be built by the Kenosha plant in 1975
BODY M-019326 = Milwaukee-built body; 19,038tyh body produced at that plant
MODEL: 7588-7 (75 = 1975; 88=Matador wagon, -7 is trim level)
PAINT: E6 Fawn Beige
TRIM: 566-L (5=1975; 66=trim color (beige); L=seat type (individual recliners)
CAR BUILD SEQ: W-021182 W=West assembly line at the Kenosha Main plant; 21,182nd car to roll out of that plant
INT COLOR: Tan




Take it home today for just $250.00 !



TODAY'S SPECIAL: You get a free 75 AMC Service manual as part of this deal.



To plan a road trip to take a look, please call or write me:


Marc Montoni
PO Box 28263
Richmond VA 23228-0263
Voice & Fax: 804-288-2766
---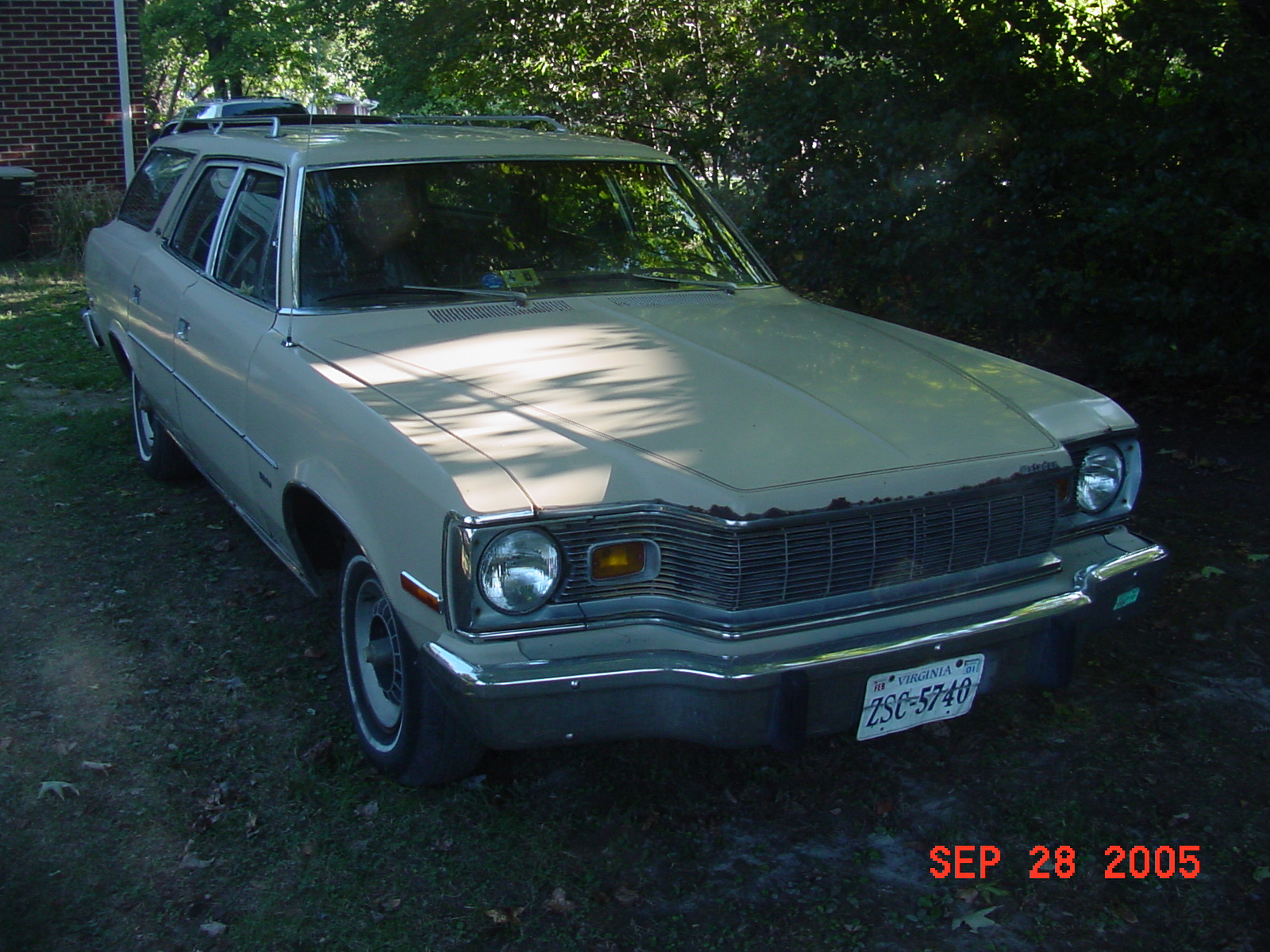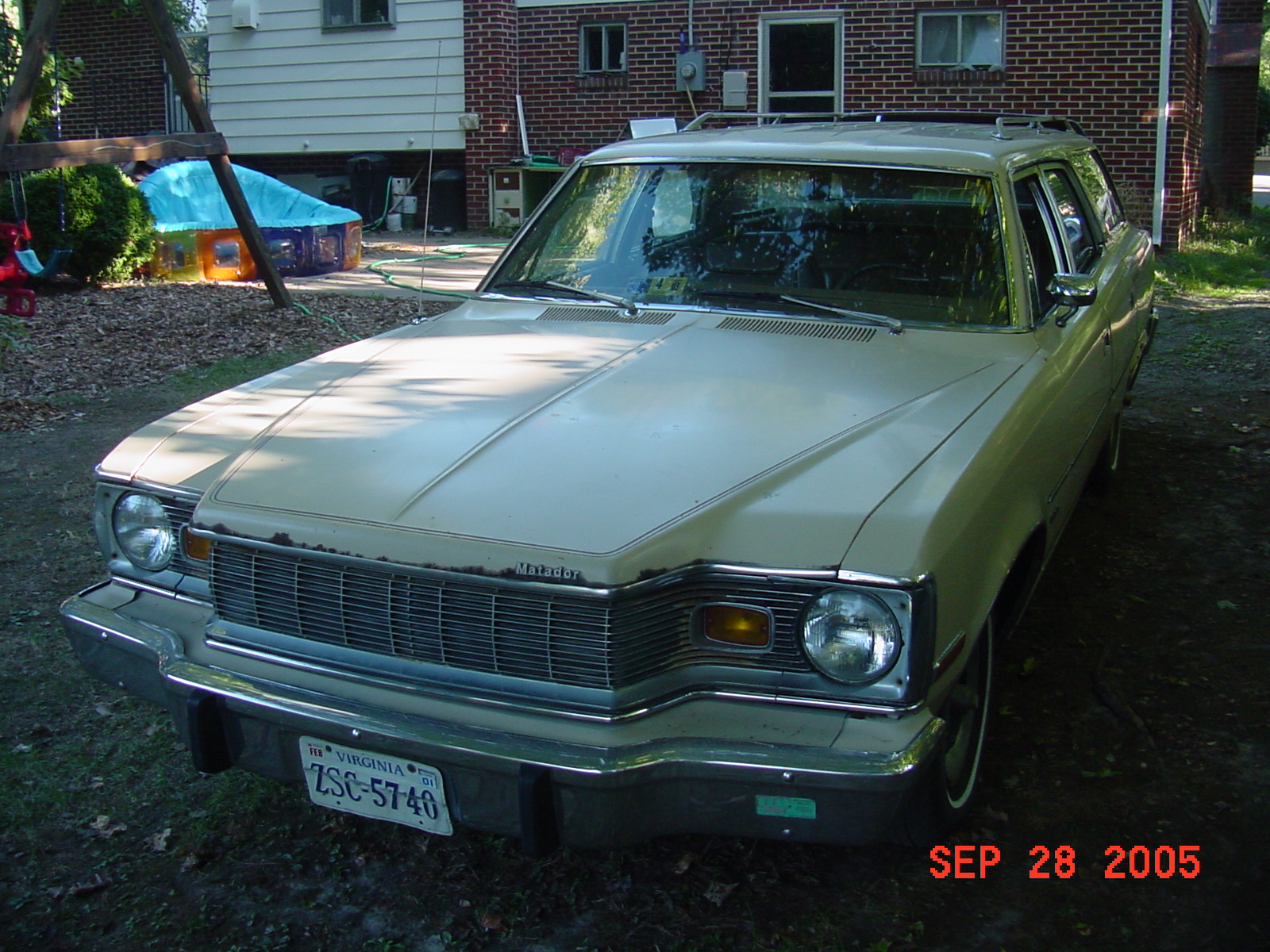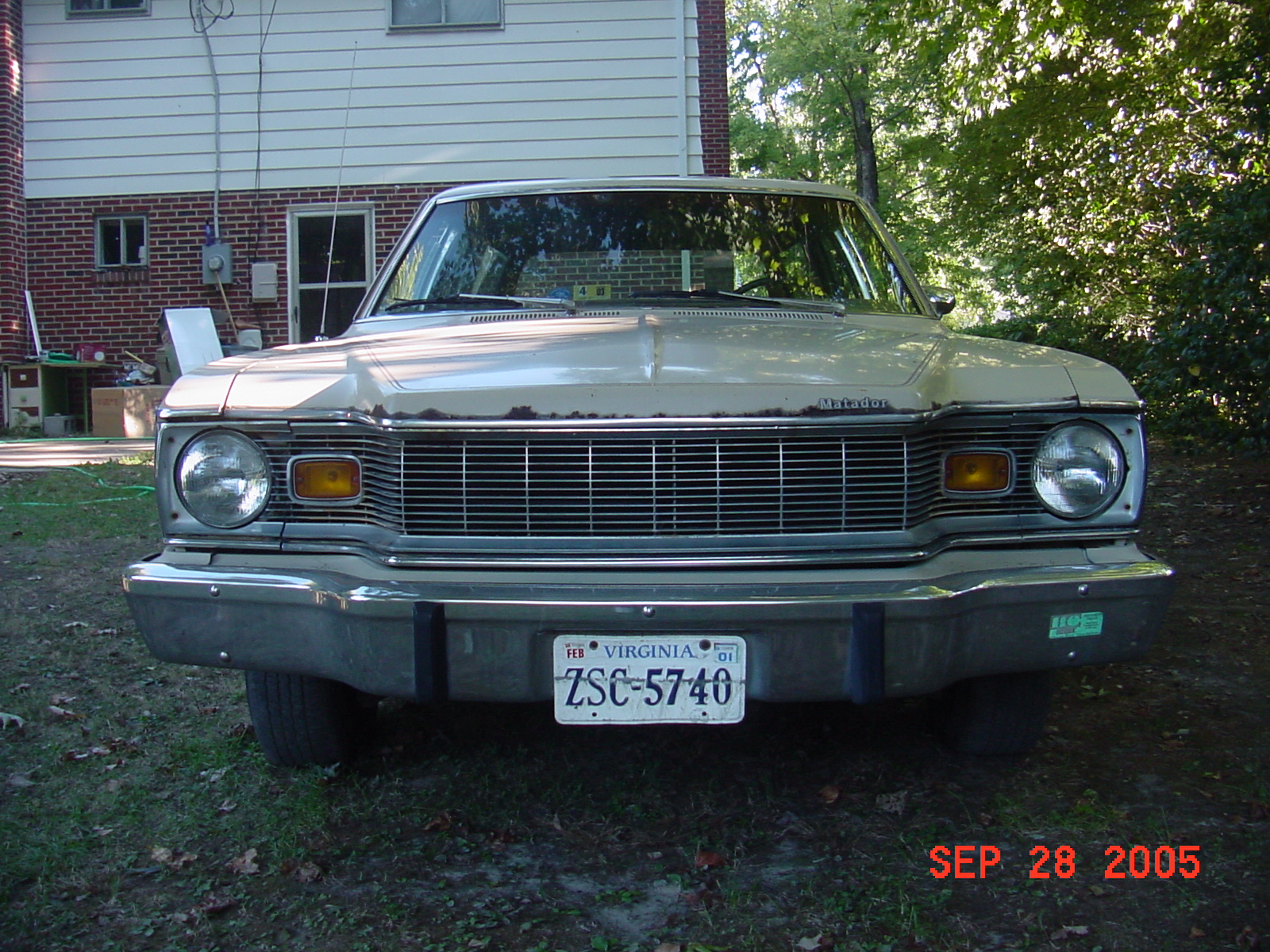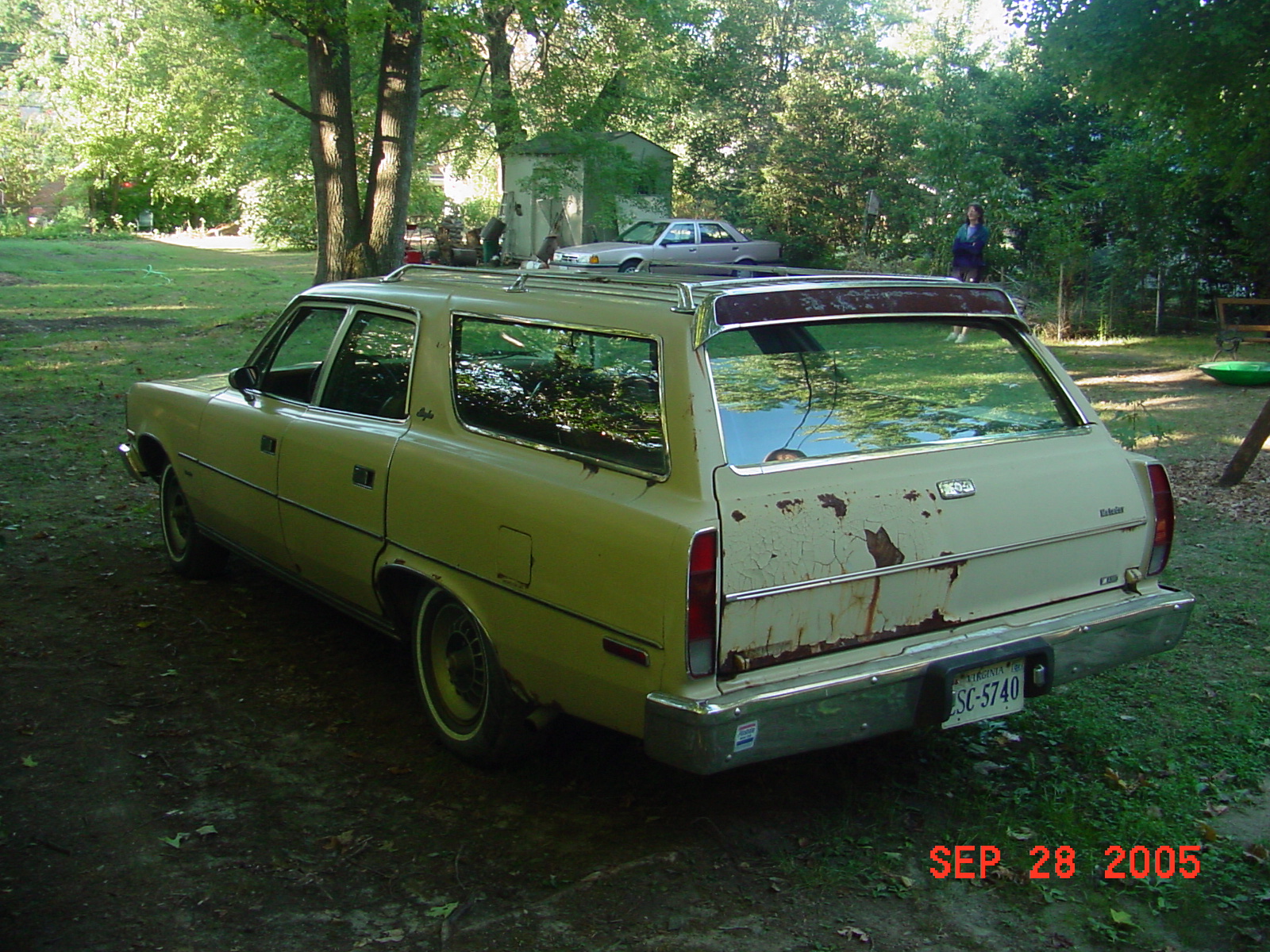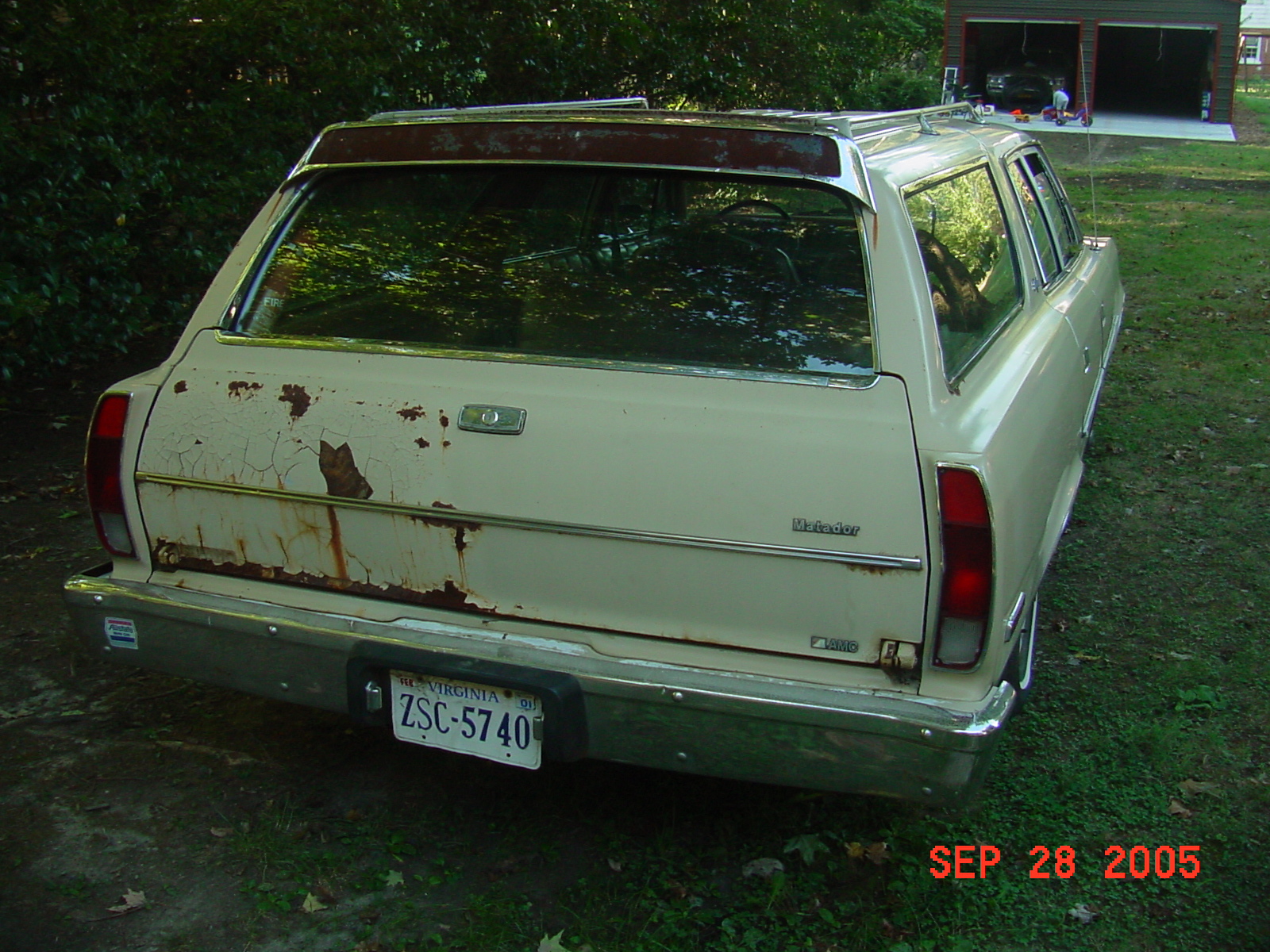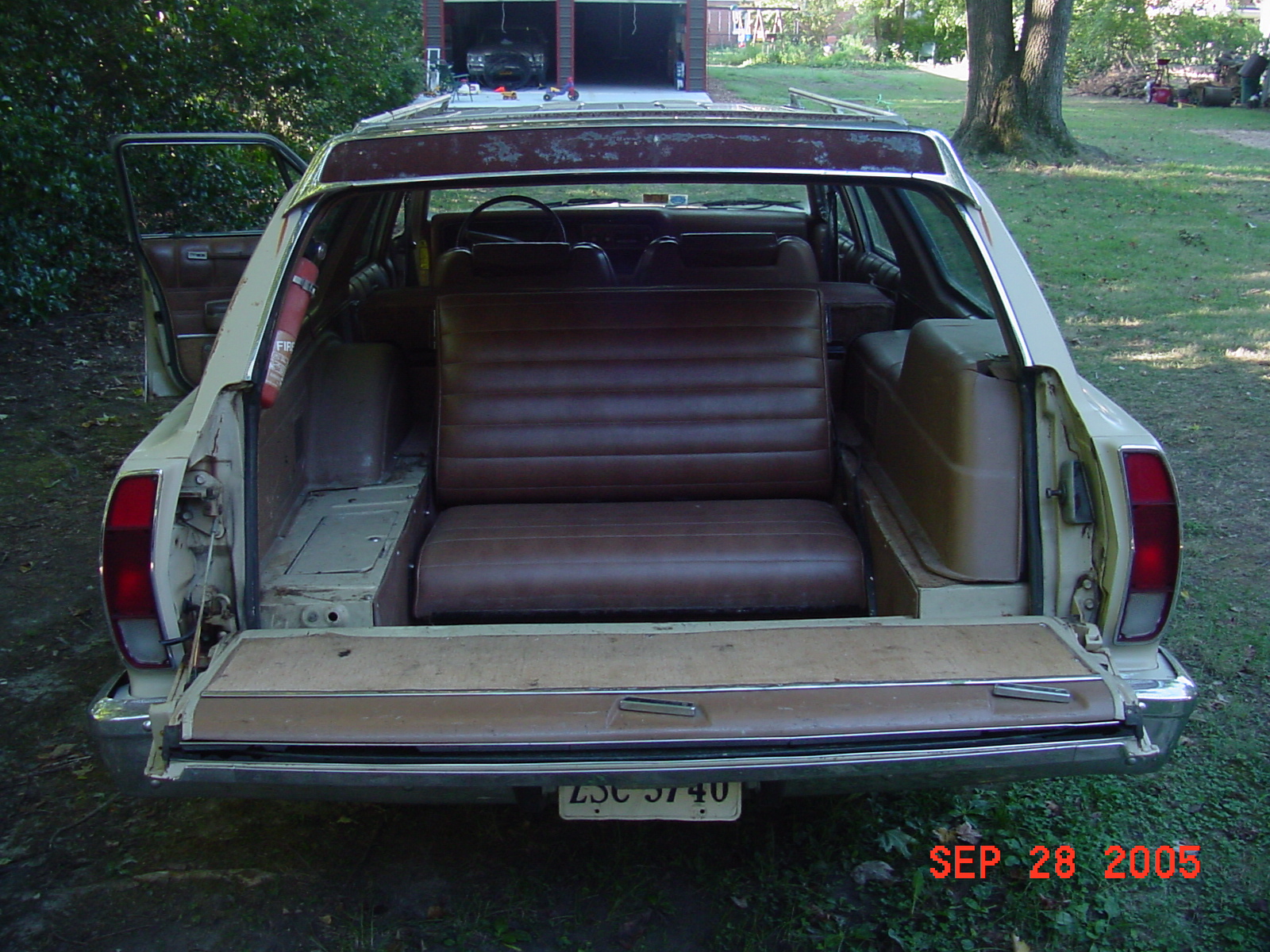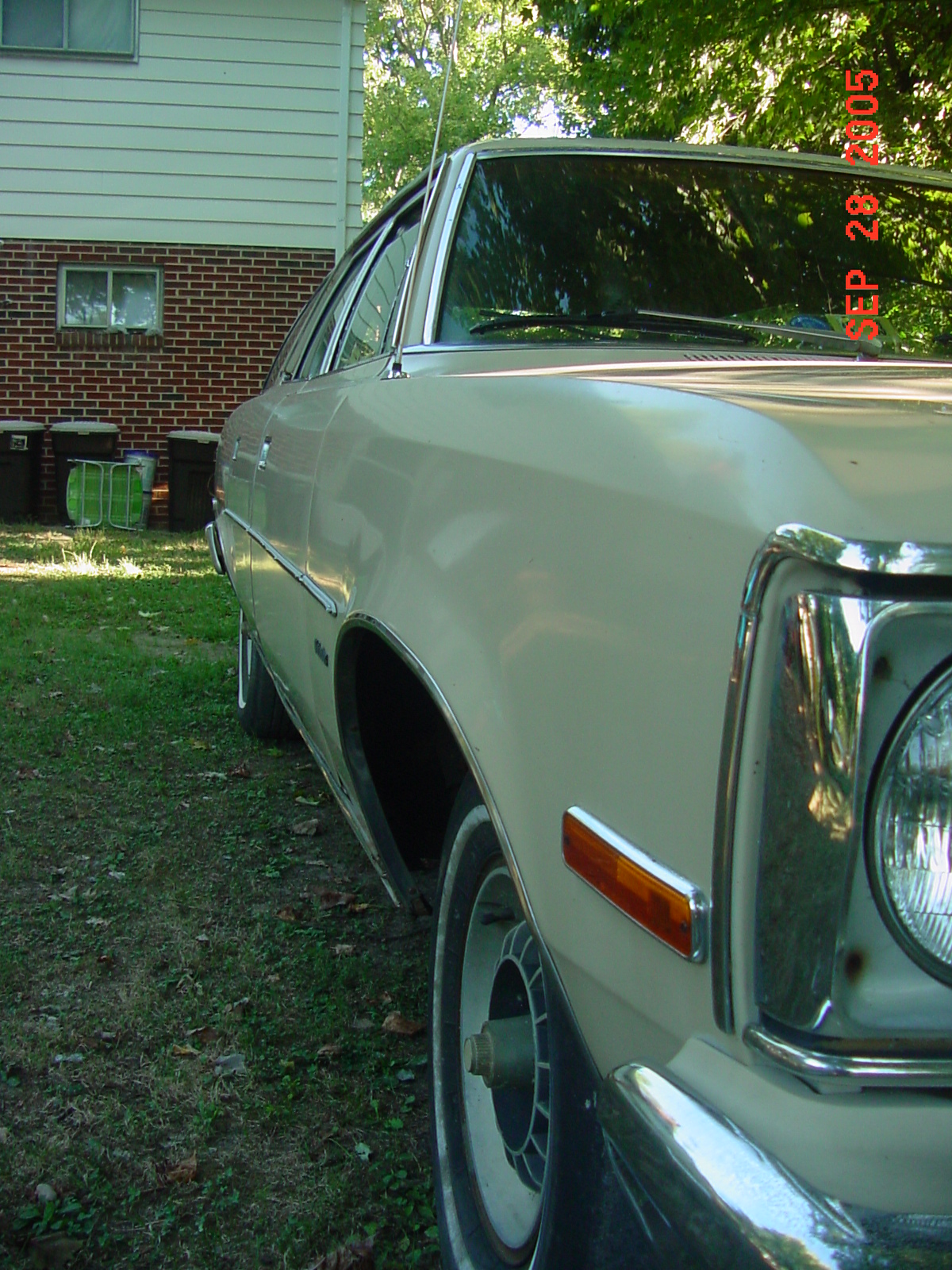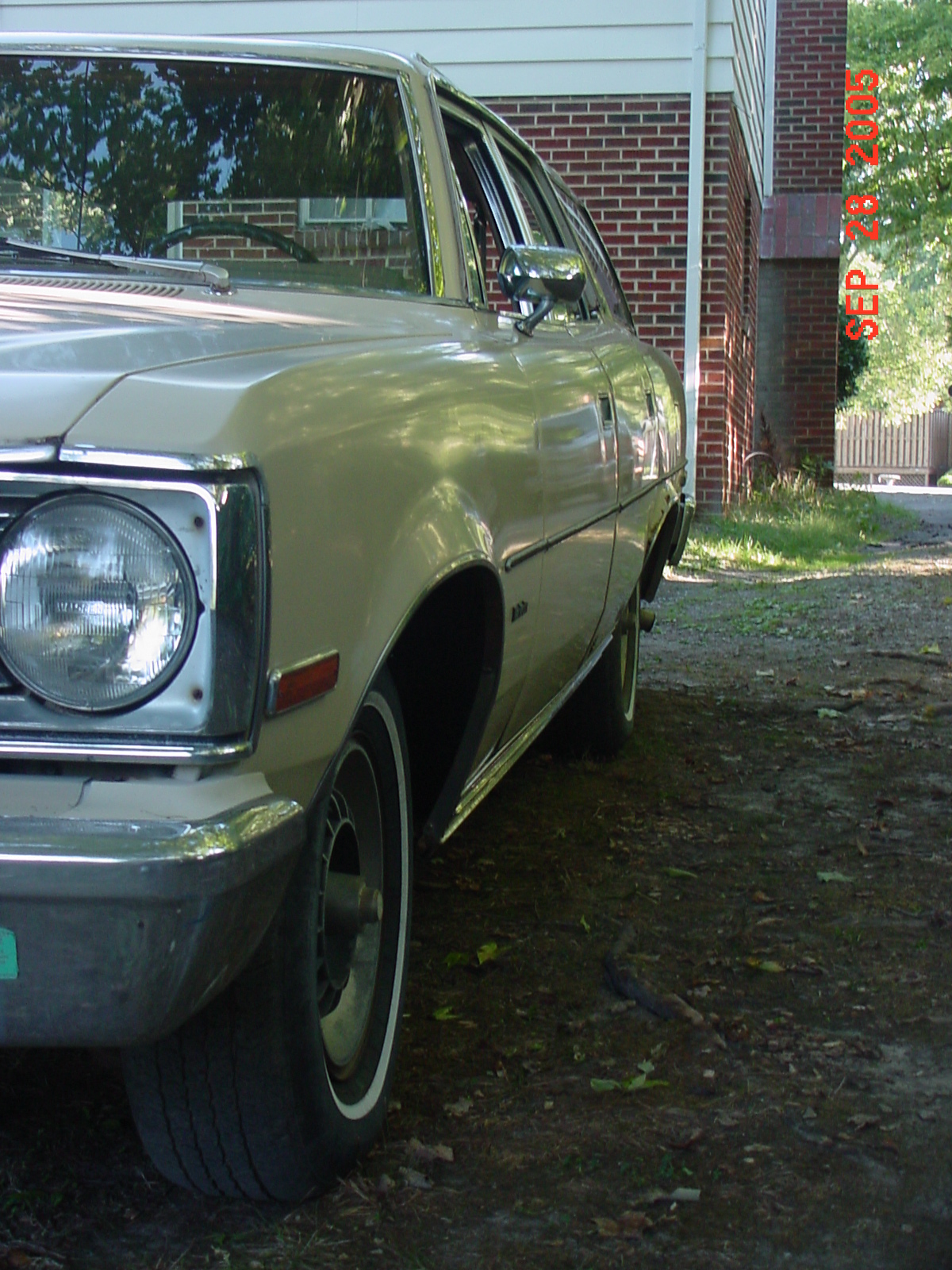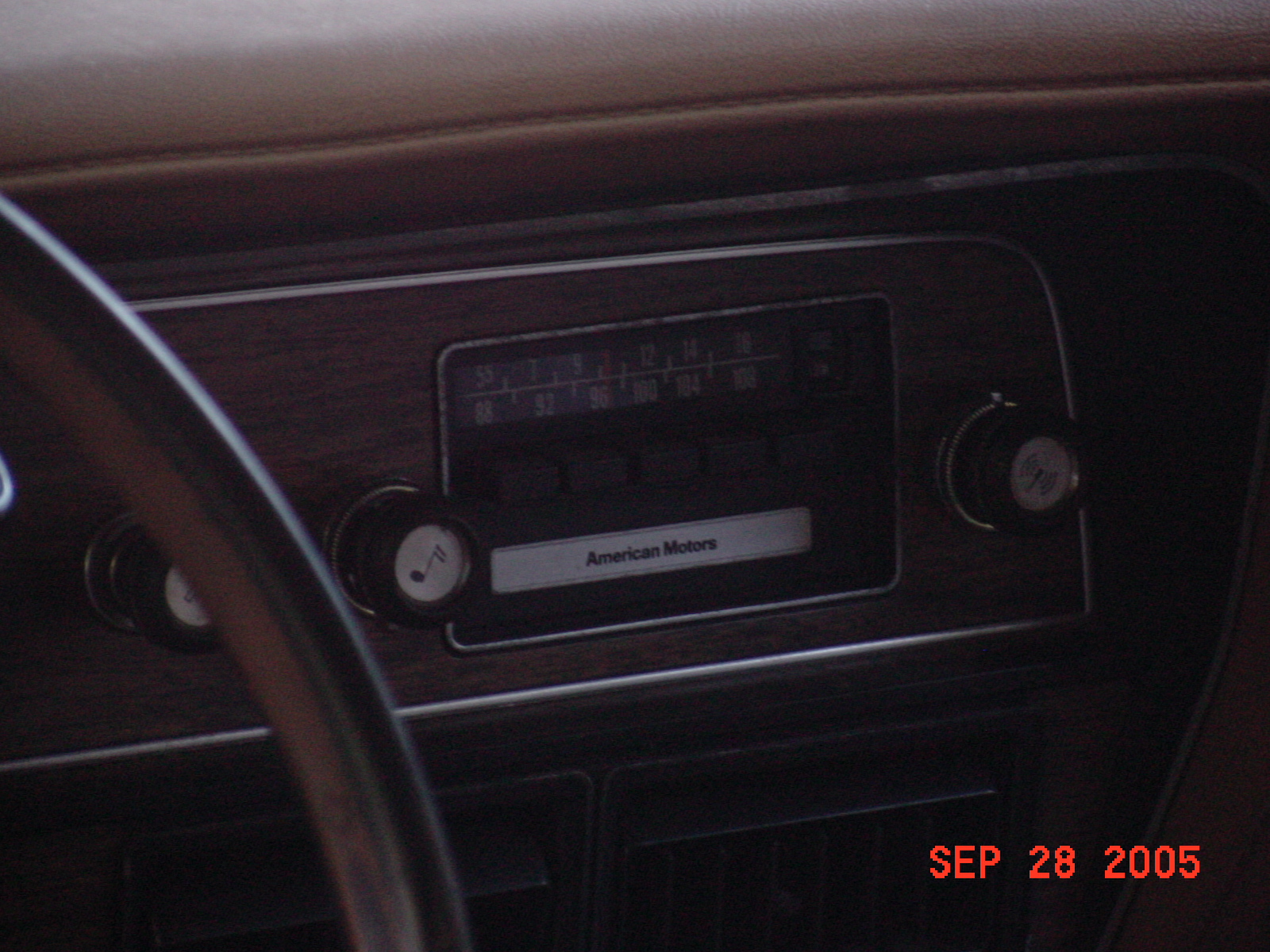 ---
Miscellaneous Thoughts


The car has the usual worn-out AMC front end; but even so, it drove well.

I was asked: How bad is that rust on the hood and tailgate?

The tailgate apparently had a run-in with the laws of physics at some point in its distant past.

A good portion - a third or more - of the panel was bondoed. The surface rust underneath is pretty well-established. Either a good sandblasting or swapping a tailgate from a junker would do the trick; there does not appear to be any damage to the surrounding frame.

The hood rust is fairly advanced, but treatable. If you have a day or two to stay and play, I have two parts Matadors that might be useful for sheetmetal (ask for photos). They are a decent drive away from my home, that's why I suggested planning for an extra day or two).

This car also needs the hood hinges rebuilt; the passenger side has the usual broken pin on the bottom. The driver's side is not far behind, I'm certain.

---
Go to my HomePage
Go to my AMC Links Page...
Go anywhere but where you are...

This page last edited 2005.10.24, using Netscape Composer.